Evan Blass (@evleaks at twitter and the American blogger, editor, and phone leaker), has recently leaked renders of the HTC Desire 10 Pro in Black and White flavors, with gold trimming and chamfered edges. Two variants of HTC 10 viz. the HTC Desire 10 Pro and the Desire 10 Lifestyle are expected to be released by HTC soon. The HTC 10 was released in the first half of this year while the two variants are expected to be rolled out after the mid of September.
It is reported that the HTC Desire 10 Lifestyle will be having a solid color matte finish which will be bordered by awesome golden trimming. Evan Blass further reported that the HTC Desire 10 will be having similar matte finish in black and white colors and will also feature metallic gold trimmings around the edges. Although the leaked reports say that both variants will have similar looks but both will be having much variance in design finally.
Information is yet not available about the detailed features of HTC Desire 10 Pro, however, some details are released about the other variant.
The HTC Desire 10 Lifestyle will be launched with a HD display of 5.5-inch and a resolution of 1080 x 720 pixels. The device will also feature a front camera of 5 Mega Pixels and a powerful rear camera of 13 Mega Pixels along a backside illumination (BSI) sensor and a LED flash. Both of the cameras will feature support for full HD 1080p video recording. Moreover, it will also feature HTC's BoomSound technology. The device will be running on Android 6.0 (code name Marshmallow).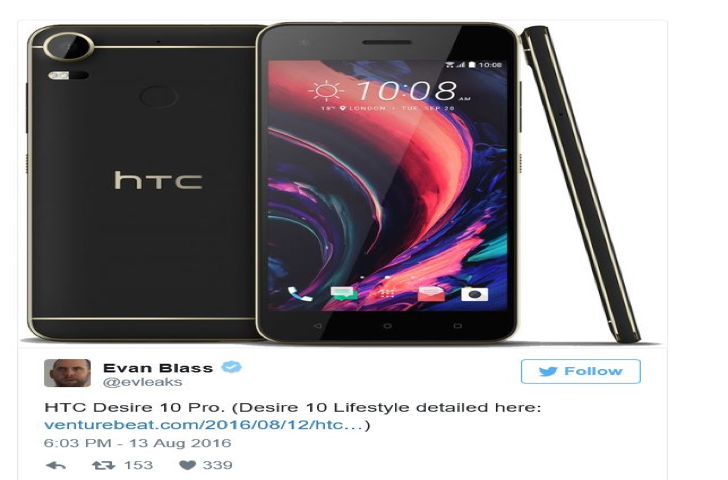 Originally, the HTC Desire 10 was sold for 52,990 rupees. It runs on a Qualcomm Snapdragon 820 CPU and has a display of 5.2 inches. Moreover, the primary memory of the device is 4 GB and the built-in storage is 32 GB. The phone features a camera of 12 MP and even under low-light condition, this camera gives acceptable results.