Bridge inspection equipment is essential to monitor, maintain, and better both the safety and reliability of the infrastructure system. So, working closely with a professional bridge inspection manufacturer is vital for keeping your team of inspectors safe. To perform the under bridge inspection properly, you will need an under bridge inspection vehicle. In this way, the inspection process will be fast, reliable, and safe for everyone. And, of course, the team of inspectors will reach all critical parts of the bridge for a correct assessment.
What are the main benefits of using an under bridge inspection truck?
#1 The opportunity of identifying all the existing problems
A professional bridge inspection will always find and assess all the current issues of a structure. This is the main reason why period bridge inspections are conducted throughout the country. Moreover, using a bridge inspection vehicle facilitates the process and allows easy access to all the essential areas of the bridge. Structural damage can be hidden in the most unexpected spots, which is why it is so important to address the issue in a timely manner. Hence, having a bridge inspection vehicle will get safe access via a platform or an inspection bucket all around the structure.
#2 Faster and efficient inspection process
A bridge is a massive structure that requires a lot of time and human resources for the inspection. An advantage of using an under bridge inspection truck is that it boosts the inspection process, leading to a faster and efficient investigation. Also, the results are more accurate than it is the case with not using such vehicles.
#3 User-friendly and easy to operate
An under bridge inspection truck is designed in such a manner that allows the user to operate it without effort. The distinct stabilization system permits operators to move the equipment while the platform is used. It is a significant plus, as it can boost efficiency and allow the inspection process to be completed faster.
What are the main features of a bridge inspection truck? 
Amongst the required bridge inspection equipment, the under bridge inspection truck is the most crucial component. It comes with several features, including:
Advanced control system with the professional graphic user interface;
Adjustable options with self-leveling characteristics;
Telescoping and/ or rotating platforms;
Great reach and maneuverability;
Fully equipped truck to meet any necessary outcomes;
User-friendly and easy to use, no matter the dimensions of the construction.
Where to purchase under bridge inspection vehicles?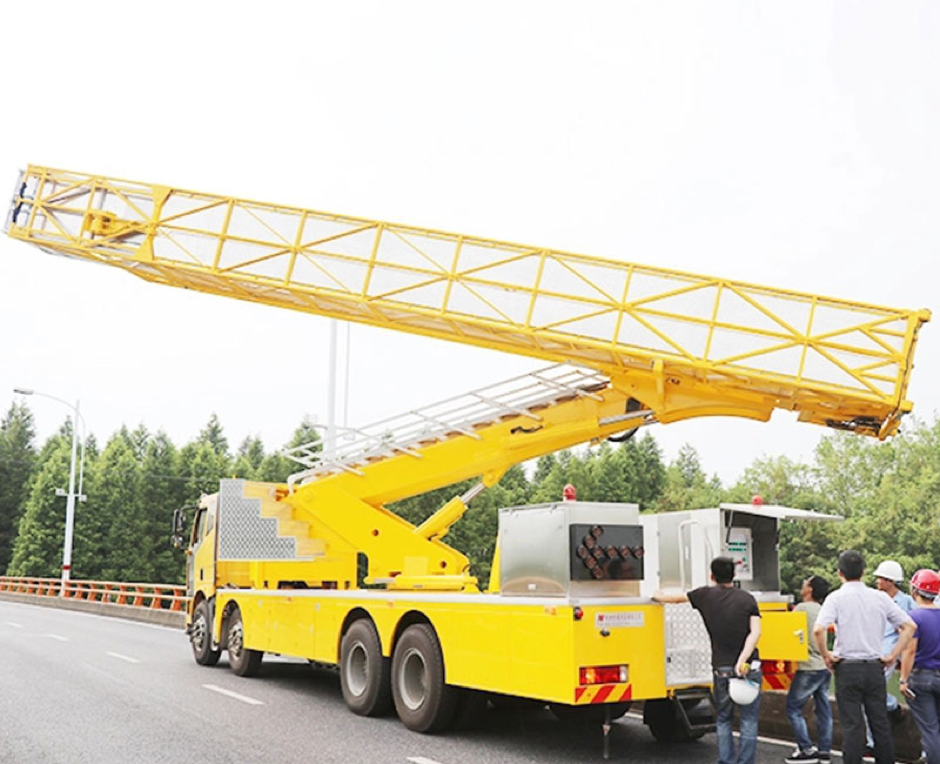 With several bridge inspection equipment manufacturers on the market, it might seem a bit challenging to choose a specific service. But all you have to do is select that bridge inspection vehicle manufacturer that complies with existing regulations and offers safe and easy to maneuver trucks.
So, because diagnosing problems prior to becoming more significant and creating unsafe environments is a must. Our recommendation for the best bridge inspection manufacturer is Hangzhou Special Automobile Co., Ltd. Their portfolio is varied, while the services provided offer all sorts of under bridge inspection truck solutions. You can find with this manufacturer:
22M, 19M, 17M, and 15M platform type bridge inspection truck;
18M and 16M bucket type inspection vehicle.
All the models available with Hangzhou Special Automobile are designed to offer easy access to all sorts of constructions. Their platforms or buckets adapt quickly to any challenge while keeping the person safe and out of harm's way. Thus, if you aim to benefit from the best bridge inspection vehicle, we advise you to check their portfolio.