Researcher Roy Morgan did a survey and came up with a result which was astonishing to hear, the most popular phone among the teenagers of Australia is iPhone.
Roy Morgan came up with a big figure which shows that one million Australian teenagers aged 14-17 which is 91% have a mobile phone, among them 58% were holding iPhones in their hands. Samsung comes second after iPhone as a most popular brand for teenagers with 22% consumers, compared with 31% overall.
Mobile users in teens, 78% say, besides their own self-others pays for their credit charges, while 62% got their phone as brand new from retailers, with 65% are on pre-paid plans and the remaining 35% on post-paid plans, which is the exact reverse of the ratio of general population.
Telstra is leading the carrier wing by providing choice to 37% of teenage mobile users, with 21% market coverage from Optus and 16% Vodafone (each very close to the national norm).
Roy also noticed the decrease in the market share of Telstra, is going to Virtual Network Operators (MVNOs). Among 26% of teen mobile users are with MVNO, 7% are with Virgin Mobile, 5% with Amaysim and somewhat 2.5 % with each of TPG, ALDmobile and Boost Mobile.
Morgan also found that usually 14-17 year old spends around 10$ less per month on mobile usage than those who are adult's mobile users, mostly they use pre-paid plans with discount MVNO providers, with teens who have to pay from their own pocket they find pretty cheap plans like 5$ or less for a month.
Australian Mobile Phone Owners aged 14-17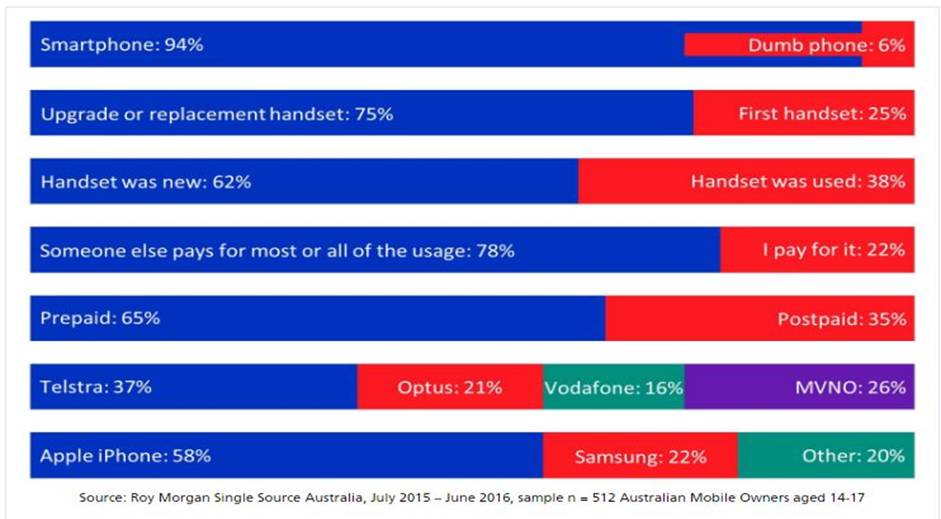 "Teenagers like 14-17 they will likely to use their cell phone for playing music, games, and videos," Morgan Research CEO Michele Levine stated. 82% of teenagers have used their smartphone to consume media and play games in the previous four weeks.
"Adding more, half of the teenagers have said that they can't live without their cell phone. Unlike other mobile owners they show gratitude over ads relevant to them from their carrier side, in case if it reduces the overall bill for them. There is also a warning for those parenting their kids and paying their bills, 30% of teens go beyond their data limit."