People's intention to fulfill their needs online has been on a rising trend over the last decade. The horizon seems to be bright, as the number of internet users who prefer online shopping is increasing considerably. However, the journey to start an online store and make it lucrative is not that easy. Finding the right niche market to work in, designing a professional website, finding SEO services in Dubai that are appropriate for your special type of business and at the same time fits within your budget and at last sourcing inventory properly, are just a few out of many challenges that you will be facing, along the way. The good news is that you are able to start your online store without inventory and that's what we are going to explain further for you, here in this article.
What are the options to start an online store without inventory?
There are a few options for interested people to start an online store without inventory. If the average website design price in Dubai fits within your budget to design your platform and have an adequate budget for digital marketing and SEO, you are right to go with any of these business models to start your online store.
● Dropshipping is an online business model with no inventory required
Dropshipping refers to an online business model, where the manufacturer of a product ships the product to the buyer on your behalf. In this business model, you are free to put any type of product on your website and redirect all received orders to the relevant manufacturer. There are some downsides with dropshipping such as no brand awareness for your brand and small profit margin for you, but it's still a good business idea for small businesses.
● Affiliate store makes your online store up and running without inventory
Affiliate marketing business model refers to selling a partner's products and receiving commissions on every purchase made through your platform. In contrast with dropshipping, you don't need to worry about finding a product to sell online, as your partner takes care of it. The pitfalls of this model is firstly the very small commision and secondly is that any shortage in your partner's end in terms of customer service would negatively impact your reputation.
● Print-on-Demand is the other business model with no inventory required
There are a lot of products in the market that people intend to print something on. Mugs, T-shirts, hats and phone cases are just a few out of many. To start your print-on-demand business, you may connect with a printing partner and send your received order to them and get a commision on every order.
● Selling digital products and service is another type of online store with no inventory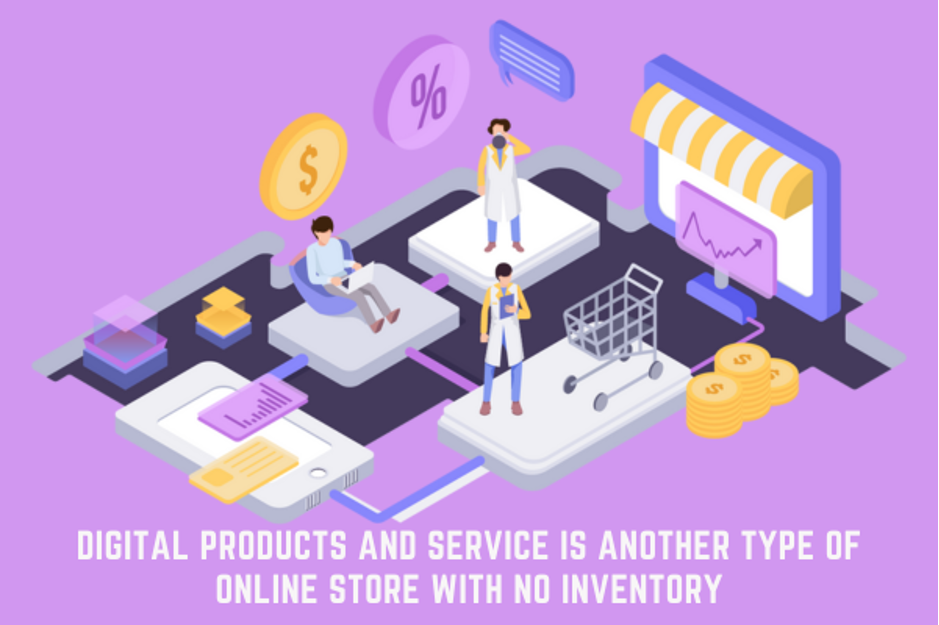 Not all online stores sell physical products. You can choose to sell digital products like e-books and educational courses or online services such as online aerobic classes. That is a perfect business model for people who are equipped with a profession that people are enthusiastic to spend money for.
● FBA or Fulfillment By Amazon
FBA is a great service, designed by the e-commerce giant, Amazon. By utilizing this model, you only need to source and ship your targeted product to the Amazon fulfillment centers and they take care of the rest. They will pick the products, pack them and deliver them to your customer. Even though it is a great business model for people who are not able to manage the logistics side of the business, be aware of high costs that are charged by Amazon to manage your products' logistics.
● 3PL or third party logistics companies
Just like dropshipping, you can work with 3PL companies to leave all the logistics with them. However, you still need to source your product. Even though you still need to source your products, all other logistics such as shipping, customs, storing and delivering to the customers will be taken care of, by the third party company
Bottomline
Considering the steady and constant growth in the online shopping industry, it would be a good idea to start your online store and take advantage of such a brilliant market. Like outlined earlier in this article, you can start your online store with no inventory that makes things easier for you. However, regardless of the business model you choose, you must build a shining website and have a professional SEO plan in place, beforehand.
If you are thinking of starting your online store in the near future, you can work with one of the best digital service providers in Dubai. Websima DMCC with more than ten years of successful experience in the UAE market can add great value to your business. Contact websima with confidence and book for your free consultation meeting to discuss your project with their talented team. They are fully committed to provide you with a solution that suits your project best.