Lead-in Part:
With a rapid transformation sweeping through every sector, AI has become the driving force behind enhanced efficiency and productivity. As businesses and individuals seek to harness the potential of artificial intelligence, AI Flowchart tools have emerged as indispensable assets. This article examines AI Flowchart software, outlining its distinctive benefits in revolutionizing process visualization, data analysis, and collaboration.
Using AI to create serves several advantages over traditional methods of creating flowcharts. For instance:
Data-Driven Insights: Latest AI flowchart tools utilize data analytics to provide valuable insights for informed decision-making.
Streamlined Workflows: AI tools help businesses and academics streamline complex workflows for increased efficiency.
Enhanced Visualization: AI flowchart software offers visually appealing and interactive flowcharts for better understanding.
With EdrawMax's AI features, users can effortlessly create basic flowcharts, mind maps, and forms. The AI Smart Assistant guides users through the diagramming process, suggesting shapes and connections, thereby reducing the need for manual entry and adjustments, resulting in overall efficiency. The Optical Character Recognition (OCR) feature in EdrawMax allows users to extract texts from images or scanned documents, seamlessly integrating external content into their diagrams. This handy feature of EdrawMax eliminates the need for manual data entry and enhances accuracy in diagram creation.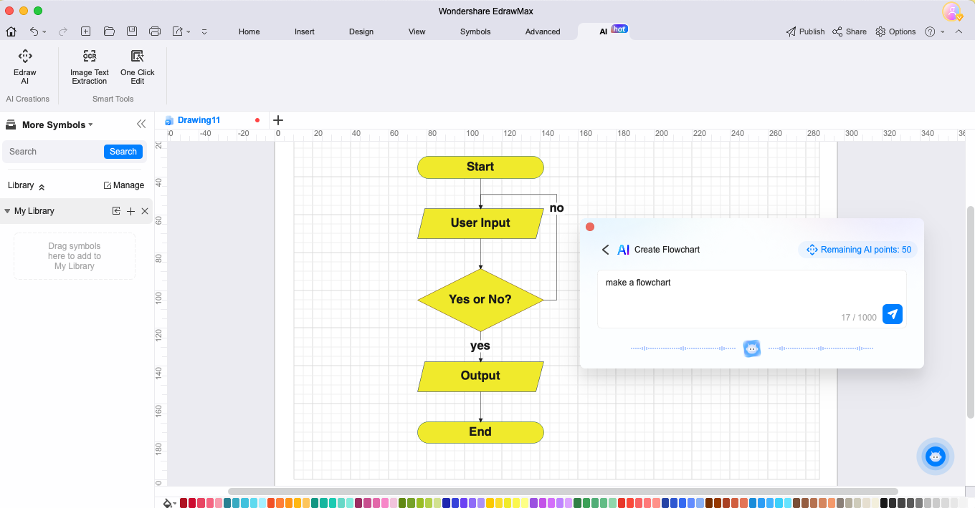 One of EdrawMax's most appealing features is its user-friendly interface, designed to cater to beginners and experienced users alike. The intuitive drag-and-drop functionality enables swift and efficient diagram creation, allowing users to bring their ideas to life without hassle. EdrawMax leverages the power of artificial intelligence to offer a range of intelligent features that enhance the diagramming experience. The AI capabilities embedded within the software streamline various processes, making diagramming more efficient, accurate, and enjoyable.
Pros of EdrawMax:
AI-powered basic flowcharts, mind maps, and form creation for efficient diagramming.
OCR feature for extracting texts from images and scanned documents.
AI One-Click Diagramming for rapid visualization of textual information.
Cons of EdrawMax:
EdrawMax's AI flowchart maker comes with only 50 points, which some might find very limited.
Supported System: Windows, Mac, Linux, Web, Android, and iOS
Visme
After the rise in artificial intelligence, Visme added an AI generator that helps create wonderful flowcharts.
Even without a design or technical expertise background, non-tech-savvy individuals can create stunning flowcharts with Visme's premade templates. In Visme, one can easily choose from a broad range of professionally designed premade templates, which one can customize to suit their specific requirements.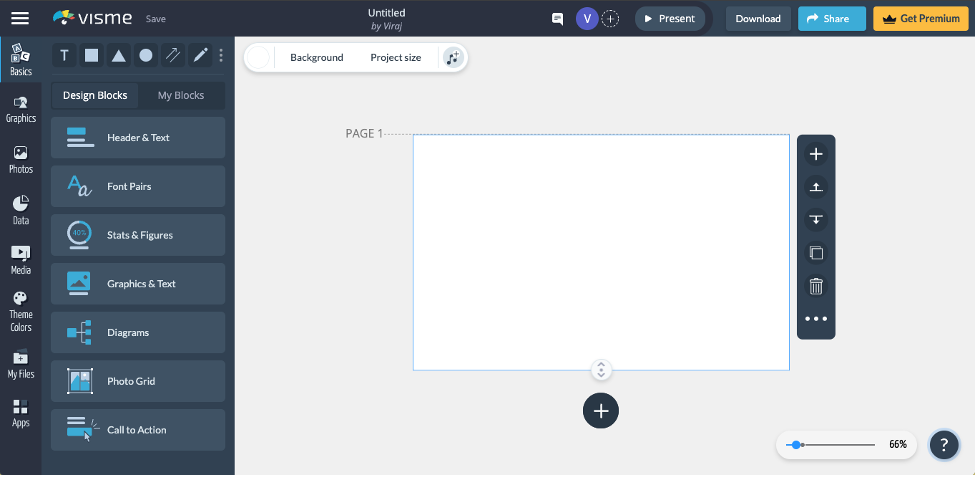 Every flowchart element can be perfectly tailored to perfection with Visme's customization features. Customize colors, fonts, shapes, and more to match your brand or personal style, ensuring your flowchart aligns seamlessly with your content.
Pros of Visme
Drag and drop functionality for easy formatting and customization.
A comprehensive collection of flowchart symbols and connectors for versatility.
Non-tech users can create professional flowcharts with ease.
Cons of Visme
Limited template options for AI-generated content become a problem for those planning to use AI flowchart software daily for multiple projects.
Supported Systems: Windows, Mac, & Web.
Taskade
Just like EdrawMax and Visme, Taskade, famous for creating task-creation tools, has also enabled an AI feature that helps create AI-generated flowcharts.
Taskade's integration capabilities empower users to enhance their workflow by connecting Taskade with various platforms. This integration allows for seamless data transfer, keeping all essential tools in sync and enabling users to access their flowcharts wherever needed.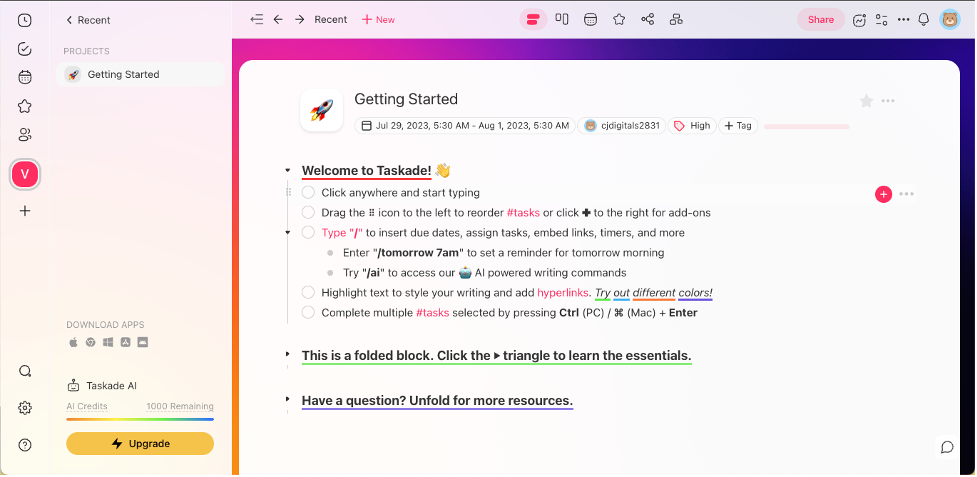 Whether users prefer desktop or mobile devices, Taskade ensures a consistent and accessible experience for everyone.
Pros of Taskade
Versatile AI extends to various workflow creations, not just flowcharts.
Intuitive interface for easy and efficient diagramming.
Smart suggestions and automated layout adjustments for quick design.
Cons of Taskade
Even though the interface is user-friendly, it does not look that professional to use and access.
Few users have faced problems with automation and customization of premade templates.
Supported Systems: Windows, Mac, Linux, Android, iOS, and Web.
Whimsical
Whimsical's latest breakthrough is introducing the "AI Text-to-flowchart" feature, which transforms raw ideas into polished flowcharts within seconds. This game-changing capability simplifies the brainstorming process, allowing users to articulate their thoughts as text, which is then intelligently translated into visual diagrams. The result is a seamless and intuitive flowchart creation experience, saving valuable time and effort.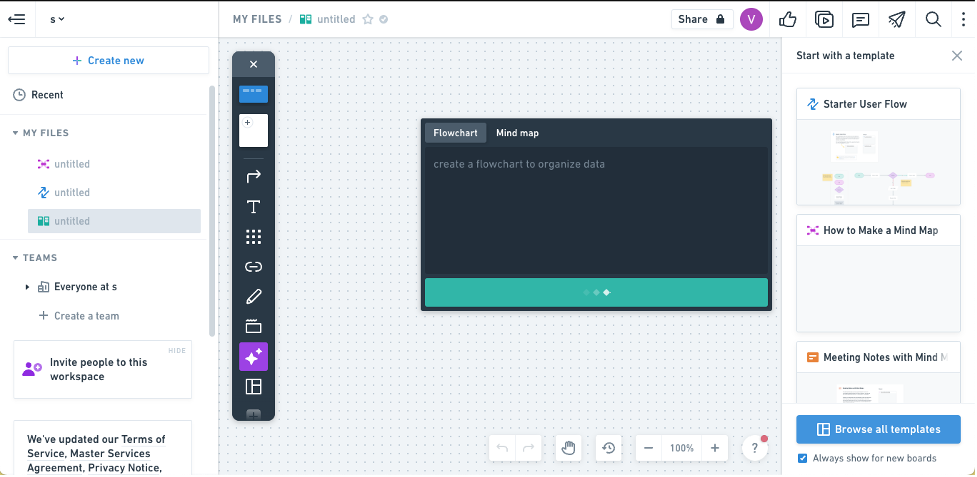 Integrating AI into Whimsical's flowchart-making process extends beyond mere text-to-flowchart translation. With the AI flowchart feature, users can now create user flows in seconds, providing a visual representation of user interactions within a system or application. This accelerated creation process streamlines design workflows and facilitates effective communication among team members and stakeholders.
Pros of Whimsical
Intuitive interface for effortless diagramming.
AI flowchart feature for creating user flows in seconds.
Trusted by industry giants like Notion, Stripe, and Intercom.
Cons of Whimsical
Few Whimsical users have pointed out that they faced issues regarding document editing. Additionally, they were disappointed when they could not find easy ways to print some of their AI-generated flowcharts.
Supported Systems: Web
FlowCharts.ai
Whether for personal, business, educational, or organizational purposes, FlowCharts.ai's versatility shines through in its ability to create surveys, forms, questionnaires, decision trees, funnels, and workflows that are automated, intelligent, and smart. This dynamic platform empowers users to craft tailored surveys and forms that cater to their unique requirements, unleashing their imagination and creativity without limitations.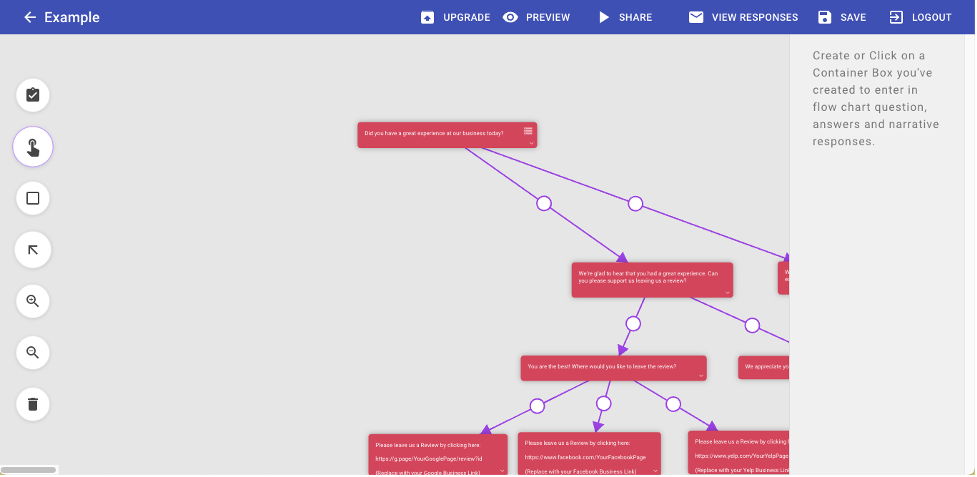 FlowCharts.ai doesn't just stop at creation; it goes a step further by offering multiple delivery options. Users can deliver their flowcharts and forms through SMS, text messages, emails, links, QR Codes, or AI Chat Bots for their websites. This seamless integration ensures optimal engagement and maximizes response rates, making communication and data collection a breeze.
Pros of FlowCharts.ai
Time-saving AI flowchart maker for quick patient diagnosis in healthcare.
Efficient candidate screening and filtering for optimized recruitment.
FlowCharts.ai has a user-friendly interface with a clean and intuitive design that helps non-tech people start easily with their flowchart designs.
Cons of FlowCharts.ai
Even though a free (Economy Class) version is available, it does not offer much content creation with AI. To use the AI Chatbot for flowcharts, one must pay $49/month or go ahead with the First Class subscription model, which costs $99/month.
Supported Systems: Web, Android, & iOS
Key Takeaways
The AI flowchart tools we explored today exemplify the power of artificial intelligence in enhancing the diagramming experience. From automating complex processes with EdrawMax to fostering creativity with Visme's interactive features, these tools empower users to streamline workflows, improve communication, and boost productivity.
With Taskade's AI generator and Whimsical's text-to-flowchart capabilities, professionals can save time and make data-driven decisions, while FlowCharts.ai revolutionizes industries with its intelligent automation and seamless integration. Embracing AI flowchart tools simplifies diagram creation and unlocks a world of possibilities, propelling individuals and businesses to thrive in a fast-paced, data-driven era.