The importance of the perfectly designed and executed online advertisement is undeniable. For decades, we have been opening our mailboxes to mass-produced flyers that are often not relevant. From that real-estate leaflet when selling our home is not even on our radar or that pizza place that doesn't offer vegan options for our health-conscious family, there has been a huge transformation in targeted flyers that we can actually benefit from.
If you have never heard of an e-flyer, think about those physical pieces of mail, sent to your inbox instead. The world is becoming increasingly digital, especially with the rise of COVID-19 where both businesses and clients are spending more time online than ever. Taking that into account, using a wide range of digital marketing techniques will increase your company's brand awareness, leading to conversion.
The best part? Choosing digital costs a fraction of the price and will reduce our environmental footprint. Say 'hello' to less trash. But if you're still unsure about whether this is a direction suitable for your company, keep on reading about why it's a need, not want, for your next campaign.
Why The Need for E-flyers 
There's plenty of reasons why e-flyers work for your company. But here are a few to get those wheels turning.
Makes Segmenting Advertisements Easy
Creating and distributing an e-flyer that highlights unique elements about your company or campaign will help you stand out. Online tools like PosterMyWall make designing beautiful graphics simple and intuitive with the help of over 150,000 customizable e-flyer templates. You want to create several different variations that speak to different segments of your target audience, as every consumer has their own needs and interests to look out for. Use online marketing tools like email and targeted ads on Facebook and Google to get the best use out of your e-flyers.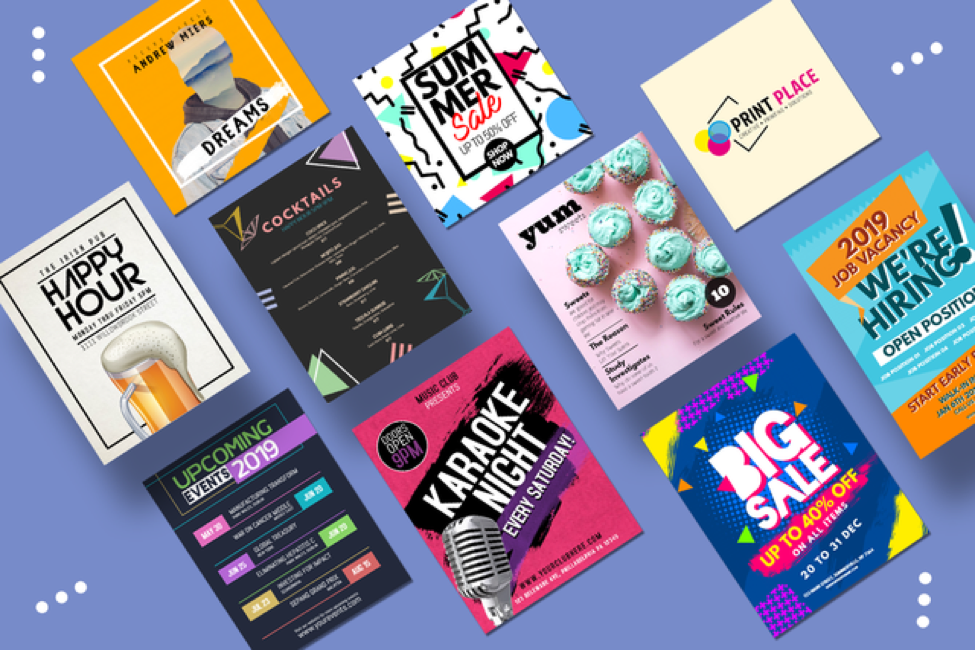 Save Money Upfront
There is no comparison between the costs of a physical flyer and an e-flyer. Research from Postalytics shows that most marketers will spend between .50 cents and $3.00 for each piece of direct mail. You can see how that can add up, especially for small businesses where every dollar counts. And during times like these where the future is unpredictable, it is wise for companies to be careful with their budget.
Using online tools means you get professional results without the need of a middle person, in this case, a graphic designer. You end up saving a lot of money in the process, which can go into product development and other departments.
Easier to Distribute and Manage
Simply put, measuring the results of a physical flyer is much more challenging. Sure, you can distribute coupons and determine if they are redeemed in-person. You could input a QR code like QRCode Monkey to track how many people actually use it. Or, you can also ask new customers 'How did you hear about us?' But online measurement tools are more intuitive when it comes to both distribution and understanding success rates.
Tap into your list of email subscribers and upload our campaign onto your favorite mailing service. After your campaign has been distributed, you can easily measure important data like open rates, click rates and subscribers that will give you a good idea about your campaigns performance.
But How Can I Start?
The internet is full of tools to make life easier, especially if digital marketing is not your forte. From planning to collaboration to social media management and more, the right tool can add valuable time to your day while saving money, too. It's a win-win situation. But where should you start, you ask?
Choose the Right Mailer
The right email tool allows you to distribute emails to hundreds or even thousands of recipients with just one click. It provides ease in collecting leads, automating campaigns and tracking results. It is just another tool that makes it much easier to see where your marketing dollars are being allocated. We would recommend joining millions of other active customers in using MailChimp, a tried-and-true platform used by individuals, entrepreneurs and business-owners alike since the early 2000s.
Pro tip: play around with the subject line, images used and even the subject copy to see what works best for your audience. Seemingly trivial aspects like the color theme of your e-flyer can make substantial changes in results. If you are not familiar with the concept of A/B testing, it means testing a couple versions of a single email campaign to see what is most effective.
                                                       Link to: https://mailchimp.com/
Repurpose Content
A great benefit of creating online content is the ability to repurpose it! Consider reusing your most successful content on different platforms, keeping it evergreen. Think your most successful flyer, with key information transformed into a social media post or recycling your most successful content into a cohesive blog post. This keeps it evergreen!
Not to mention, video has been having a major moment on social media for the past couple of years. It's no surprise – according to Forbes, the average user spends approximately 1.3 seconds on each post on their newsfeed. This means it's essential to use a tactic like video to capture attention in a snap. PosterMyWall makes it easy to transform e-flyers into eye-catching, captivating animation to convey your most important messages to your audience.
Next Steps
Transitioning the bulk of your marketing online is a no-brainer. Your outputs will be more cost-effective, easier to measure and a lot more fun to create. PosterYourWall is an easy-to-implement option that allows even the least web savvy to create the most beautiful campaigns. Join us today!